Barclay Earth Depot is a women-owned wholesale aggregate supplier serving the Florida region with high-quality aggregate materials since 2007. Our team is built by excavator professionals with 80 years of combined experience in the excavation field working with state companies and knowledge of the best materials in the market. Furthermore, our aggregate professionals are qualified to provide our clients with project consultation, material consultation, and distribution knowledge.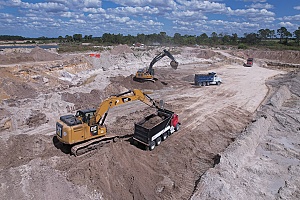 We envision a large-scale wholesale raw material supplier mostly conducting business-to-business sales to local developers, nationwide stores, landscapers, and other end users.
At Barclay Earth Depot we believe in:
Quality products
Personable service
Customization of product and sales
We are a woman-operated company with a deep-rooted drive to achieve industry excellence in product mining and supplying to provide customers with high-quality material without compromising that personal touch customers get from a small locally known company.
Barclay Earth Depot where we deliver quality product, from quality people.