In the heart of Punta Gorda, Florida, the land resonates with a rich history of growth, development, and an enduring spirit of innovation. This picturesque town, known for its charm and vibrant community, effortlessly blends progress with the preservation of its natural beauty.
Within the thriving community of Punta Gorda, Barclay Earth Depot proudly extends premium fill dirt services to support the ever-changing landscape of the region. Whether you're a homeowner, contractor, or developer, our Punta Gorda, FL fill dirt serves as your guiding star, allowing you to navigate the local terrain with unwavering confidence.
Why Choose Barclay Earth Depot for Fill Dirt in Punta Gorda, FL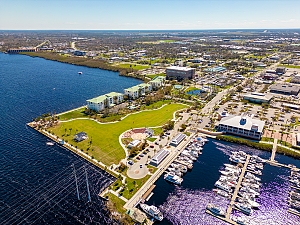 Our unwavering commitment to quality, reliability, and personalized solutions positions us as the preferred choice for Punta Gorda's residents and businesses. Discover the reasons that make selecting Barclay the right choice for your fill dirt requirements.
Dependable Quality
At Barclay, we take great pride in sourcing only the highest quality, clean, and meticulously screened fill dirt that not only meets but surpasses industry standards. Our dedication to quality ensures that your projects have a solid and dependable foundation.
Relevant Expertise
With years of experience under our belt, our team possesses the knowledge and expertise necessary to understand the intricacies of various projects. We offer the guidance required to recommend the perfect fill dirt solution for your unique needs.
Custom Solutions
We understand that every project is unique. That's why we specialize in crafting fill dirt solutions that seamlessly align with the specific demands of your project, regardless of its scale or complexity. We have the right solution for you.
Varieties of Fill Dirt We Offer

Screened Fill Dirt
Our screened fill dirt undergoes a meticulous screening process to eliminate rocks and debris, resulting in a refined product. It's the ideal choice for tasks like yard and garden leveling, ensuring a clean and even surface.

Unscreened Fill Dirt
Unscreened fill dirt retains its natural consistency, including the soil's original composition, with rocks and debris intact. It's the perfect solution for budget-friendly projects, such as filling deep holes and leveling extensive areas.

Clean Fill Dirt
Clean fill dirt is free from foreign inorganic materials like rubble, metal, and glass, making it an environmentally friendly choice. It retains its natural debris while ensuring safety for humans and animals. It's a responsible choice for various projects.
Reach Out to Punta Gorda, FL Fill Dirt Professionals
Choosing Barclay Earth Depot means choosing expertise and a steadfast commitment. Our Punta Gorda, Florida fill dirt is sourced, processed, and recommended by professionals who genuinely comprehend the requirements of your projects, whether they involve landscaping or construction.
As a women-owned wholesale aggregate supplier proudly serving the Florida region since 2007, we take immense pride in offering high-quality aggregate materials. Our team comprises excavation experts with a remarkable 80 years of combined experience in the field, collaborating with state agencies and amassing unparalleled knowledge of the finest materials available.
Elevate your projects with our premium fill dirt options. Contact us today and let us assist you in realizing your project's full potential in Punta Gorda, FL.