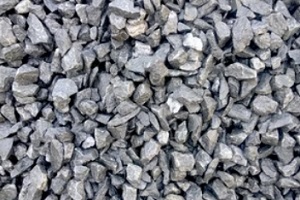 When it comes to construction, there are a variety of materials commonly used that most people aren't familiar with. Other than professionals in the industry, many people may have trouble identifying some of these materials and their uses. This is especially true when it comes to the many types of stone, which are actually one of the most fundamental building elements used in ready mix concrete, asphalt, masonry and hardscaping.
We all recognize a stone when we see one and know how significant they are in construction, but not all of us can identify specific stones and the roles they have in various projects.
This brief review will cover several varieties of crushed stone and gravel, how they are created and what they are best suited for. Even if this doesn't make you a quarry expert, you will have a better understanding of the fundamentals for your next concrete or hardscaping project!
What Is Crushed Aggregate?
The majority of crushed stone is generated in quarries, where larger boulders are broken up and crushed by machines. Crushed stone, also called aggregate, refers to medium and coarse grain size material which is produced by man-made machinery and techniques rather than occurring naturally, such as in a riverbed or canyon.
Crushed aggregate, often known as rock aggregate, is a crushed stone product that is mined. Larger stones are crushed in an impact crusher to make rock aggregate in regions where natural sand and gravel aggregate resources are insufficient to meet demand. Typically, crushed aggregate is substantially more expensive than comparable natural materials due to the increased manufacturing costs required in mining and processing the stones used to generate the crushed aggregate.
Has Crushed Aggregate Always Been Used For Construction?
Crushed aggregate did not become a common building material until after WWII for one simple reason: the equipment necessary to crush and transfer stone efficiently did not exist. Crushed stone was difficult to create and transport because large stones and quarries are hard on tires and require hefty metal. World War II accelerated the invention of big gear with tracks; crushed aggregate then began being widely employed in construction projects in the 1940s and 1950s.
Crushed aggregate was utilized in practically every aspect of construction including large-scale construction projects, and in particular infrastructure such as the Eisenhower Interstate System. Crushed aggregate was required in vast amounts for foundations, concrete, drainage systems and roadways.
What Types Of Crushed Aggregates Are Available?
There are two types of aggregate: fine and coarse. When compared to coarse aggregate, fine aggregate is broken down into smaller particles. Coarse crushed aggregate will pass through a 3-inch (7.62-cm) sieve but not a No. 4 sieve when fed through a separator or aggregate washer. During the aggregate screening process, fine crushed aggregate will pass through a No. 4 sieve but it will be halted by a No. 200 sieve.
Varied sizes and types of aggregate are suitable for different applications in the construction and landscaping industries. Larger, coarse crushed aggregates, for example, are more cost-effective, but they may cause issues when utilized in concrete forms for upright constructions. Fine aggregate, on the other hand, is acceptable for use in concrete but is not suggested for use in the construction of a road surface or driveway.
How Is Crushed Aggregate Produced?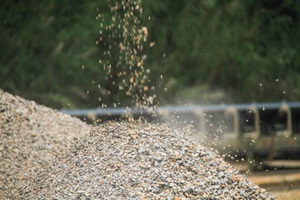 Crushed aggregate is produced through a lengthy process in the stone and aggregate sector. The stone must first be extracted in a quarry and then delivered to a rock crusher, where the larger stones are crushed into smaller pieces. As the stones exit the rock crusher, they are transported by a rock conveyor to the impact crusher, where they will be further broken down.
The aggregate is screened for size after it has been treated in the impact crusher. This operation may be carried out in a screen shaker or in an aggregate washer during the washing phase. Once it has been properly crushed, the aggregate is carried to the storage area. If the stone does not crush to the appropriate size and type the procedure is repeated, or the stone may be delivered to other equipment for additional processing.
Crushed aggregate can be an extremely expensive commodity due to the amount of machinery, time and manpower required for its production. Their high cost notwithstanding, aggregate materials are the most important component of concrete building. Crushed aggregate is typically used locally to avoid incurring additional costs associated with transporting the material.
If you are in need of crushed aggregate for your upcoming projects, don't hesitate to contact our team of professionals at Barclay Earth Depot. Our staff will gladly answer any questions you may have about landscaping, hardscaping or providing you with pricing options for crushed aggregate to fit any unique budget and project.