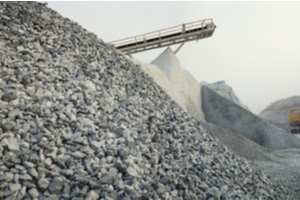 When it comes to the building industry, the importance of a solid foundation is above all else. A good quality aggregate material is unquestionably the 'literal' foundation of any construction, and any construction, from a modest building to highways to skyscrapers, necessitates large volumes of high-quality raw materials for this foundation.
Construction aggregate, also known as aggregate, refers to all forms of construction materials used in the foundation of structures, such as sand, gravel, crushed stone, slag and geosynthetic aggregates. Aggregates are utilized to add strength to composite materials and are also used for drainage due to their comparatively high hydraulic conductivity value.
When searching for a company to provide and transport aggregates for your construction business, it is important to understand the many types of aggregates, their specific uses and how they are processed.
What Are Aggregates?
Gravel, crushed stone and sand are examples of aggregates that are formed from natural sources and extracted from pits and quarries. They are utilized to make compound materials, including asphalt concrete and Portland cement concrete, when combined with a binding medium such as water, cement or asphalt.
According to the Mineral Commodity Summary of the United States Geological Survey, 75 percent of the 1.4 billion tons of crushed stone produced in 2018 was utilized in building. Meanwhile, road construction accounted for 24% of the almost 1 billion tons of sand and gravel produced, with asphalt accounting for 12% and concrete accounting for 44%.
How Important Are Aggregates?
Aggregates are not only the foundation of our society but remain present in our daily life. Each year, the average American uses approximately 10,000 tons of aggregate. Without sand, we wouldn't have glass or plastic, and without zinc, we wouldn't have pennies. Quartz provides silica for computer components, whereas limestone provides calcium carbonate for antacids. Aggregates are employed in the filtration and purification of water, as well as the filtration and purification of air.
What Makes A Good Aggregate?
The material must be predictable, homogenous and consistent. Before they can be utilized, they must be cleaned and dried. The quality of aggregates is determined by the techniques employed to process them. The basic process begins by extracting the material from the earth; it is then crushed, rinsed and sorted. The success of each step is contingent on the performance and quality of the previous step.
This process has evolved from the use of only hand tools and manual labor, to the streamlined technology and machinery of today which create a high-performance, low-maintenance and energy-efficient process.
Aggregate Processing And Extraction
Aggregates can be composed of several composite materials. Primarily, they are mined minerals that have been broken down into a variety of sizes for various construction purposes.
Assessment And Preparation Of The Site For Mining And Processing
Sand and gravel mining require prior site evaluation and preparation. After a successful evaluation, a site permit must be requested and obtained prior to commencement of work. This may involve, not only the clearing of the area, but also the storage of dirt, soil erosion protection and other safety measures related to any disturbance of the land.
Mining And Processing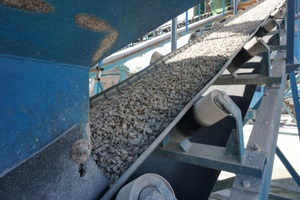 Open-pit mining and quarrying are the most typical processes for procuring aggregates such as crushed stone, sand and gravel. This usually involves the use of drilling and blasting equipment which is influenced by a variety of geological factors depending on the location. Front-end loaders, tractor scrapers and draglines are used to extract the sand and gravel deposits that are above the water level.
Deposits that are below the water's surface are removed by using hydraulic and ladder dredges. The crushed rock is then delivered to the processing facilities for sorting, cleaning and drying. The quarried rock undergoes primary and secondary crushing, is sorted by size and is then transported to bins or stored by conveyors.
Work With The Best
If you are in need of an aggregate supplier for your personal or professional needs, contact the experts at Barclay Earth Depot. Our friendly and helpful staff can assist you with pricing options and can answer any questions or concerns you may have. Working with an experienced and knowledgeable aggregate supplier will ensure you get the best quality and the right product for the job.