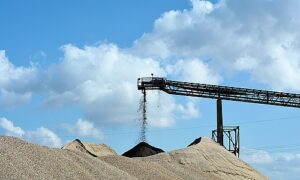 There are several distinct types of aggregates or "collections of rocks" that can be used for construction projects and gravel aggregate is just one example. Gravel is different from crushed stone in that it's naturally formed, although the two types of rocks are similar. Barclay Earth Depot is proud to offer high-quality gravel aggregate for a variety of Florida construction projects.
Properties Of Gravel Aggregate
Gravel is often combined with sand and/or stone to complete construction projects such as roads, highways, sidewalks, buildings, and bridges made of asphalt or concrete. Coarse aggregates are typically composed of gravel, crushed stone, or concrete. Here are some of the primary and unique properties of gravel, which is made from water-transported materials and is therefore often found near rivers, lakes, or other bodies of water.
Edges
Unlike crushed stone — which typically has jagged, angular edges — gravel is often characterized by its round, smooth surface and texture. This is due to its long-term exposure to running water. Gravel cannot be crushed without losing its texture. However, in certain parts of the United States, any crushed stone that is between a few mm and 2 inches in size is considered "gravel."
Gravel can also be: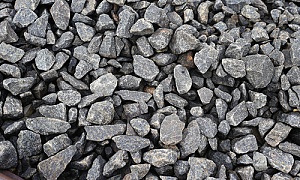 Igneous: These rocks are created after lava or molten rock solidifies.
Sedimentary: These rocks are created over time because of the accumulation of small particles that become joined together. Sedimentary rocks generally form layers.
Metamorphic: These rocks turn hard and even become crystallized after exposure to intense pressure or heat.
Types Of Gravel
Common examples of types of gravel include:
River Rock
River rock is relatively large (1 to 2-inch diameter) and is normally used for landscaping and home decor (lining a driveway, flower beds, etc.) and other aesthetic reasons. River rocks often come in many different colors and can thus have great visual appeal.
Pea Gravel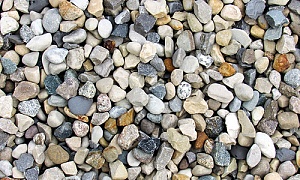 Pea Gravel is smaller than river rock (½-inch in diameter or smaller) and is frequently found in fish tanks, pools, patios, gardens, and walkways. It's critical to have gravel with set boundaries and edges when utilizing pea gravel, as it can rapidly spread out due to its small size.
In order to create a strong concrete mix, gravel aggregates should be clean and their particles must be devoid of clay coatings, absorbed chemicals, or other materials that can lead to deterioration.
Get High-Quality, Florida Gravel Aggregate From Barclay
Contact the experts at Barclay Earth Depot in Florida to learn more about gravel aggregate. We're a woman-owned aggregate wholesale business that is committed to selling a wide range of high-quality aggregates to organizations that need them. We also provide the materials that aggregates are typically mixed with for construction projects. Our team also oversees the entire process of acquiring these materials from start to finish and is dedicated to helping you, regardless of your needs and budget. Call Barclay Earth Depot at (941) 621-8484 or contact us online today for more information about our gravel aggregate products.