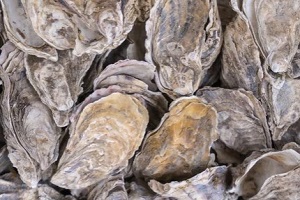 In construction, the compressive strength of any material being used is an important factor to be considered regardless of the size of the project. This is the amount of force that a material can withstand when it is under pressure.
Having materials that have a high compressive strength will ensure the structure is durable and able to withstand wear over a longer period of time. Pillars, walls and other integral aspects of a structurally sound building require high compressive strength and must pass inspection to ensure long-term durability.
Oyster shells can be used in a variety of ways to help augment the compressive strength of the concrete or aggregate mixture that is designated for specific projects. Through testing, oyster shells have been determined to be extremely strong, more so than many types of concrete, and they also have the added benefit of being environmentally friendly. Taking advantage of their use in construction eliminates the added waste in landfills and makes them a readily available resource.
Oyster Shell Aggregate Features
The main features of oyster shell aggregate, making it a desirable construction material, are its compressive strength and resistance to corrosion. Oyster shell aggregate has a compressive strength that is greater than both concrete and brick, making it a more durable option. The shells are also resistant to corrosion, making them a preferred choice for situations with continuous or high levels of moisture.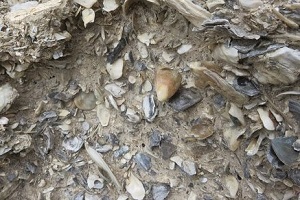 Oyster shells are a great alternative to using concrete for construction projects, as they have a compressive strength of up to 4,000 pounds per square inch. This is significantly higher than the compressive strength of concrete, which is only around 1,500 pounds per square inch, making them a great option for constructing walls, columns, and other structures that require significant compressive strength.
Coming in at a lower cost than concrete, they are a more affordable option for construction projects. Since oyster shells are a natural material, they have the added benefit of being environmentally friendly and sustainable choice.
Using Oyster Shell Ash To Augment Compressive Strength
Oyster shell ash is the residue created from burning oyster shells. It is a fine, white powder that is high in calcium carbonate, an agent that provides immense durability, creating a byproduct that can be used to augment the compressive strength of concrete.
Making aggregate mixture using a traditional concrete mixture in conjunction with oyster shell ash creates a stronger material that boasts a much higher compressive strength. In a study published by the International Journal of Civil Engineering, it was found that there is a general increase in compressive strength when oyster shell ash is added to the standard concrete mixture.
Aragonite is a mineral that is found in high concentrations within oyster shells, and has been shown to significantly improve the compressive strength of concrete. In addition to its beneficial effects on concrete, aragonite also happens to be a great source of calcium carbonate. This makes oyster shells an excellent option for those who are looking for a sustainable source of this important mineral. When used in conjunction with other materials such as Portland cement, oyster shell ash can help to produce concrete that is both strong and environmentally friendly.
Finding the Right Oyster Shells For Your Unique Needs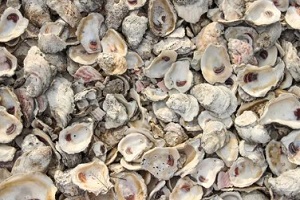 Overall, oyster shells are a great alternative to concrete for construction projects due to their high compressive strength and environmental benefits.
When looking for oyster shells for construction, it is important to find a reputable supplier who will also have, and direct you to, the right type of oyster shells for your specific project. Your supplier will be able to help you determine the correct quantity of oyster shell for your project.
Oyster shells used in construction projects must be prepared properly. This requires crushing them into small pieces in order to be effective as construction material. A professional aggregate supplier can provide assistance with this process.
Utilizing Oyster Shells To Improve Efficiency With Barclay Earth Depot
Oyster shells can be a great alternative to concrete in construction projects due to their durability, environmental benefits and ease of use. They can also be used as an additive to concrete mixtures in certain cases, which can help to improve the compressive strength of the mixture as well as improve the environmentally-conscious nature of your operation. When choosing a supplier, make sure to research suppliers and ask questions about availability and usage.
For more information on locating high-quality oyster shell aggregate, or how you can use it to benefit your projects, contact the team of experts at Barclay Earth Depot today at 941-621-8484.