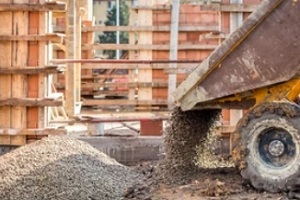 Any construction project requires dozens of elements in order to be a success. For construction such as paving or building, the use of aggregates is a common (and critical) element. From stone to sand and even seashells, aggregates help to ensure that any constructed object stands the test of time and looks as appealing as possible. Whether you are planning a build yourself or want to understand more about how contractors are tackling your project, learn more from this ultimate guide to construction aggregates.
What Are Aggregates, Anyway?
The word "aggregate" means a whole that is formed by combining many different parts. In the context of construction, this definition is still true: aggregates are elements added to other construction materials to make a new, usually stronger, material.
Most often, references to aggregates will be in relation to concrete construction or paving, where materials such as stones are added to cement to improve its quality. Each type of aggregate has its own pros and ideal use cases, and some projects might even use more than one aggregate at the same time.
How Aggregates Are Used
Aggregates are added to other materials to make something better or change its usability. In concrete, for example, crushed stone or even seashells may be added to give the cement rough edges and objects to hold on to. This helps it to bond better, and the resulting product is stronger. There is also a beneficial cost factor.
Cement material is expensive; diluting the overall amount of cement in a mixture by using crushed stone cuts down on costs while actually improving the quality of the end product. Other construction tasks that rely on aggregates include paving, making bricks, creating drainage systems, laying asphalt and creating aesthetically pleasing bedding in landscape applications.
Where Do Aggregates Come From?
Aggregates can come from all over the world, but most aggregates used in the United States come from quarries or other sources within the country. Quarried aggregates such as stone come from established mines, where the overburden (top layer of material) has already been removed.
Then, depending on the hardness of the material, it can either be stripped directly from the source or extracted via more aggressive methods such as drilling or explosives. Dump trucks bring the material to a processing plant containing specialized machines that crush the aggregate into the correct size.
Recycled aggregates, on the other hand, do not come from quarries. Instead, they are collected from already-used materials including broken concrete. Demolition waste is taken to a processing site, where it will pass through crushers and screens to gather the correct size of materials. Sometimes, multiple types or sizes of aggregates can be produced at the same time. This recycling process reduces the environmental impact of projects that involve concrete and asphalt.
The Most Common Types Of Aggregates
Aggregates come in all shapes and sizes, but a few of them find their way into almost every type of construction because of their high utility, affordable price or aesthetic appeal. These include: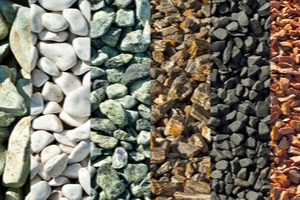 Granite – A beautiful type of stone that is visually appealing, granite also resists frost and so is frequently utilized for projects where the temperatures drop often.
Sub-base – This is an industry term referring to crushed rocks. Most often, sub-base is the primary aggregate in highway construction because it is affordable for large projects and adaptable in size.
Clay – Clay is a water resistant material, meaning that water will not freely pass through it. This feature makes it a good addition to pond or lake construction.
Crushed shell – Shell serves many of the same functions as crushed stones, but they also contribute unique visual appeal. Many people choose this aggregate for their driveways and sidewalks to benefit from both the beauty and strong structural integrity of the material.
Demolition waste – Any aggregate that comes from a quarry is not a sustainable resource, because quarries do not regrow their contents. Thus, many builders will choose to use recycled waste as an aggregate in order to be more environmentally conscious. As an added benefit, waste is often cheaper than quarried rock.
Trust The Pros For High-Quality Aggregates For Any Project
Choosing the right aggregate for a project is a big part of ensuring that the task results in a high-quality end product. If you are unsure which aggregate is right for you, or you need to locate a reputable supplier for all your construction needs, trust a professional. The experts at Barclay Earth Depot are happy to help you fulfill all your project needs. Contact Barclay Earth Depot to learn more about our variety of aggregates and how we can help.