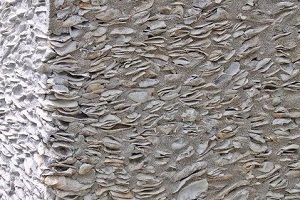 Tabby oyster shell concrete is a type of concrete that uses crushed tabby oyster shells as one of its main ingredients which creates concrete that has unique looks and characteristics. The shells are used to provide strength and durability to the concrete, making it an ideal material for construction projects.
Tabby oyster shell concrete has been used in a variety of projects around the world and is becoming an increasingly popular choice for construction professionals.
What is Tabby Concrete?
Oyster shells have been used to make concrete for centuries because of their great durability. They are ground into a fine powder and then mixed with other ingredients to form the concrete that is as strong as or stronger than traditional concrete.
One of the main reasons oyster shell concrete is so durable is because of the calcium carbonate in the shells. This mineral helps to harden and strengthen the concrete, making it resistant to cracking and chipping.
Tabby concrete is a mixture of shells, water, limestone, sand and fine aggregate and has a distinctive, rough surface. It has become quite popular for a number of different reasons, including its less expensive price point and the unique look it brings to landscaping projects.
The popularity of tabby concrete waned in the mid-20th century, but there has been a recent resurgence in its use, thanks to its durability and low cost. Today, tabby concrete is being used to build everything from homes and businesses to bridges and roads. It is also becoming increasingly popular as a landscape design agent due to its weather resistance, durability and unique aesthetic.
Tabby Concrete Use Cases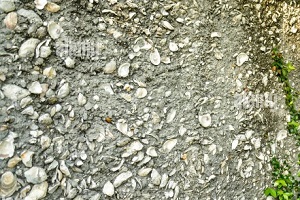 Tabby concrete is used most often in construction projects where a rustic look is desired. It can be used for both indoor and outdoor applications, and it comes in a variety of colors. Because of its textured surface, tabby concrete is also popular for use in countertops and other decorative surfaces, both indoors and outdoors.
The main use cases include:
Sub-base for Roads and Parking Lots
Tabby concrete is very durable and resists erosion. It also has high compressive strength, making it ideal for use as a sub-base material under high-traffic roads and parking lots that need to carry a ton of weight regularly.
Base for Pavements
Placing tabby concrete under any type of structure will enable that structure to last longer, improve its ability to resist wear and tear and overall create a reliable base that improves weight-bearing capabilities.
Lightweight Fill Material
Because it is very porous, tabby concrete is a great lightweight fill material. It allows water to drain quickly, making it perfect for use in areas that are prone to flooding. Tabby concrete also has a high thermal mass, meaning that it can store and release heat energy slowly. This quality makes it an ideal material for different types of fill.
Soil Stabilization Agent
Tabby concrete is a great soil stabilization agent for two reasons. First, it is made of organic materials that improve the health of the soil. Second, it is a very compact, dense material that can provide stability and strength. In construction projects where soils are prone to erosion or instability, this can be an ideal solution and can also help to improve drainage and reduce the risk of flooding.
Get the Most Out of Tabby Concrete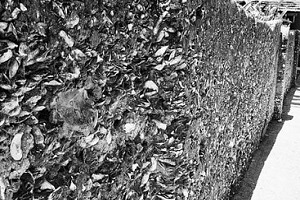 Tabby oyster concrete is a mixture of cement, sand and oyster shells that have been used for centuries to create durable structures. The main benefit is its resistance to weathering and erosion, which makes it a popular choice for coastal construction projects. Tabby concrete can also be used in interior applications, where its natural beauty can also be appreciated.
When planning to use tabby oyster shell concrete for your next project, be sure to keep its main benefits in mind:
Fire Resistance
It does not ignite easily and will not burn if it is exposed to fire. This makes it an ideal material for projects situated in areas that are at risk for fires.
Resistant to Water Damage
Tabby oyster concrete does not absorb water easily, which means that it is less likely to swell or crack when exposed to moisture. This makes it a good choice for construction in areas that are prone to flooding or other types of water damage.
Durable and long-lasting
This product is a good choice for construction in high-traffic areas due to its ability to withstand wear and tear better than other types of concrete.
To learn more about the details of tabby concrete and whether it is right for your next project, contact the team of experts at Barclay Earth Depot today at 941-621-8484.