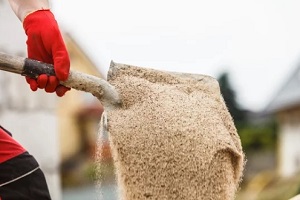 Construction sand may seem simple, but this granular material is highly versatile. Composed of eroded rocks and minerals, sand provides extensive benefits across many applications, such as concrete, mortar, plaster, glass, and more. Its unique properties allow sand to serve as a multifaceted building block for modern infrastructure.
This article will explore six of the best use cases of construction sand, revealing this material's significant impact on our world.
Concrete Production
One of the most well-known uses of construction sand is in concrete production. Sand plays an important role as a key ingredient along with cement and coarse aggregates such as gravel. It provides volume to the concrete mix, making concrete more affordable than cement.
The sand particles also allow concrete to achieve proper density and prevent too much shrinking during curing. This results in a more durable end product. Natural river sand is commonly used for concrete applications as it achieves ideal shape and gradation.
Manufactured sand is another option and utilizes crushed rock material. The type and amount of sand selected depend on the strength and workability requirements of the concrete. With the right balance of materials, the sand improves the quality of the concrete overall.
Mortar
In masonry construction, mortar is essential for binding bricks or other masonry blocks together. Construction sand is combined with cement and water to create mortar. The proportions vary based on the application; a typical mix contains 1 part cement, 3 to 5 parts sand, and just enough water for workability.
The sand is key for providing bulk and adhesion properties at a lower cost than cement alone. Mortar has many uses, including bricklaying, plastering, filling gaps, and leveling floors. It can also repair damaged concrete structures when new concrete is not required. The fine, granular nature of the sand allows it to fill voids and create a strong binding material easily.
Plastering
For interior and exterior plaster applications, construction sand is a core ingredient combined with cement. Plaster is applied over walls and ceilings to create a smooth, hardened surface. The plaster mix proportions determine the final strength and typically range from 1 part cement to 3 or 5 parts sand.
River sand is commonly used for its naturally occurring rounded shape and optimized grading. This helps create a smooth plaster coating that bonds strongly to the underlying surface.
The exact ratio depends on the requirements of the job.
For light plastering on interior walls, a 1:5 ratio provides sufficient strength. A 1:3 plaster mix ensures greater durability on exterior surfaces subject to weather. The sand gradation also affects the finish quality.
Well-graded sand particles that vary in size lead to a tight, uniform surface with minimal shrinkage cracking. With the proper cement-to-sand ratio and properly graded sand, plaster provides an attractive decorative finish and protective barrier on construction projects.
Glass Manufacturing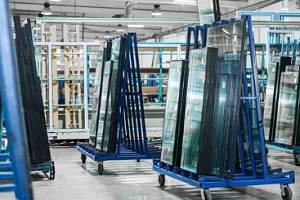 The glassmaking industry relies heavily on high-purity silica sands to create transparent, strong, and durable glass. Silica sand, composed almost exclusively of quartz, makes up over 99% of the starting materials for glass.
The level of purity matters, as impurities can cause defects and alter the optical properties of the glass. Iron, for example, can give glass a greenish tint. The silica sand must meet exacting standards to produce optical glass for applications such as windows, fiber optics, glassware, and lightbulbs.
Other factors, such as grain size and shape, also determine if the silica sand is suitable. Well-rounded, spherical grains improve melting efficiency in the furnace.
Smaller 0.1 to 0.35 mm grains offer an increased surface area for the chemical reactions required for glass creation. With advanced processing, construction sand can transform into the high-purity silica that's key for glass manufacturing.
Brick Production
Construction sand is an essential component, along with clay and other minerals, to produce robust and durable bricks. Sand is added to provide compression and flexural strength while lowering costs with less clay. The sand also enhances the aesthetics of the bricks for decorative use.
Building sand specifically graded for brickmaking helps create quality products. The angular particles and coarse crushed stone sand grains increase the friability of the brick. This makes for easier shaping into molds while retaining dimensional stability.
The rough texture also improves bonding with mortar when constructing masonry structures. With the right balance of clay, minerals, and construction sand, strong and decorative bricks can be manufactured efficiently.
Road Construction
In road construction, sand is the base layer underlying the top pavement layers. When properly engineered, sand provides effective drainage and load distribution underneath roads and parking lots. This extends the life of the overlying asphalt or concrete surfaces.
The key is using clean sand that has been well-graded. This means it has an optimal distribution of coarse and fine grains that pack tightly when compacted. Well-graded sand makes a highly stable base. It resists movement from freezing and thawing cycles and vehicle loads over time.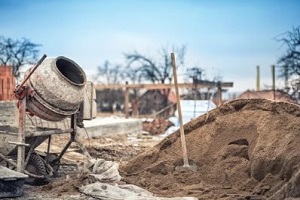 Proper compaction of the sand layer is also essential to maximize density and strength. By controlling moisture content during compaction, the sand particles are rearranged into the tightest configuration possible. Testing must confirm that adequate compaction levels are achieved throughout the layer.
With thoughtful materials selection, design, and construction, sand performs well in road base applications. It provides substantial cost savings compared to using solely crushed stone aggregates for the base. Sand's natural drainage properties also help prevent potholes, cracks, and other pavement deterioration issues related to water.
Harness the Power of Construction Sand with Barclay Earth Depot
The diverse uses of construction sand showcase its versatility as a building material. It brings important properties to concrete, mortar, plaster, glass manufacturing, and more that improve durability, appearance, and functionality.
While abundant, sand is not a one-size-fits-all material. Composition, grain size, shape, purity, and similar factors determine suitability for different applications. For further guidance on choosing the right construction sand in Central Florida, contact Barclay Earth Depot.
Our team of experts is ready to help you take full advantage of construction sand's many uses. Contact us today at 941.841.1681 or online for top-quality construction sand to ensure the success of your project.