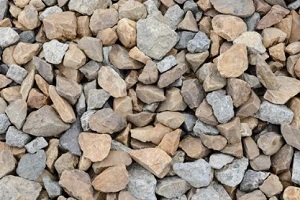 Construction projects depend on the right crushed stone and gravel aggregates. But with so many options, picking the best materials for your needs can become confusing. This guide breaks down the differences between gravel and crushed stone and highlights why #57 stone is a top choice for many jobs.
Gravel vs. Crushed Stone: What's the Difference?
Before getting into the specific types, it helps to understand the differences between crushed stone and gravel overall. Simply put, crushed stone is man-made, while gravel is a product of natural weathering and erosion.
Crushed stone comes from large rock formations that are crushed down to various sizes by machines, such as jaw crushers, cone crushers, and impact crushers. The crushing process results in angular rocks with rough edges and uneven surfaces.
In contrast, gravel is naturally made through geological processes over a long period. As rocks are exposed to water movement and abrasion over thousands of years, they break down into smaller, rounded, smooth stones. Gravel deposits can be found in rivers, streams, on beaches, and in quarries or pits.
Due to these different formation methods, crushed stone tends to have sharper edges, while gravel is rounded, which affects how they interact and lock together in construction applications. For example, the angular nature of crushed stone makes it highly stable and easy to compact.
Common Sizes and Grades of Crushed Stone
When ordering crushed stone for a project, you will typically specify the size and grade needed. The crushers sort the rocks by size, separating them into piles labeled with a size number. Some common crushed stone sizes you will encounter are:
#1 – The largest crushed stone, around 2 to 4 inches in size.
#2 – From 2 to 3 inches in size.
#3 – From 1 to 2 inches.
#4 – From 3/4 to 1 1⁄2 inches.
#5 – Around 1 inch or smaller.
#8 – From 3/8 to 1⁄2 inch.
#10 – The smallest classification of 1/4 inch or less. Often referred to as stone dust.
The numbers correspond to the number of screen meshes the crushed stone passed through. The higher the figure, the more screens are used, and the finer the crushed stone. For construction purposes, some key crushed stone sizes you will likely use are #1-#3 as a base, #3-#4 as drainage, and #5-#10 for mix purposes.
Some specialty crushed stone sizes to know:
#57 – This size contains stones between 1/2 and 1 1/2 inches.
#67 – Ranging from 3/4 inch to smaller.
#410 – Comprised of #4 crushed stone and stone dust.
Why #57 Crushed Stone is Ideal for Construction
#57 crushed stone is considered one of the best options for construction for several reasons:
Its size and angularity allow for excellent compaction.
The 1/2 to 1 1/2-inch size provides ideal drainage capabilities.
It serves well as aggregate in concrete and asphalt because the stones adhere nicely to the cement.
It acts as high-quality railroad ballast, as the angular rock resists movement under loads.
It is available in supply nearly everywhere due to widespread quarrying.
The versatility, particle size, compaction ability, strength, and availability make it an ideal aggregate. You're almost guaranteed to find uses for #57 stone in all types of building applications. It's one of the most handy and commonly used crushed stone sizes.
Overview of Gravel Types and Sizes
In addition to crushed stone, naturally formed gravel is the other key type of aggregate to understand. While gravel can technically be any size, there are some main classifications to consider for construction:
Pea gravel – The smallest gravel, typically under 1/2-inch in size, is used in applications such as backfill, French drains, around pipes, and decorative landscaping.
Small gravel – This category contains stones around 1/2 to 1 inch and may be used as surfacing on walkways and driveways or for exposed aggregate concrete.
Large gravel – Ranging from 1 to 2 1/2 inches, large gravel can function as a base layer for driveways or equipment paths and is also used in ready-mix concrete.
Very large gravel – Comprised of stones over 2 1/2 inches, very large gravel is mainly used in riverbank reinforcement and drainage applications.
Some key types of gravel include:
River rock – A smooth, rounded rock found in riverbeds that is often used for landscaping.
Lava rock – A light and porous stone resulting from the cooling of hot lava that is ideal for landscaping.
Pea gravel – A small, rounded rock that is often used decoratively or for drainage.
Marble chips – Crushed marble pieces with a smooth texture and good stability frequently used in driveways or landscaping.
Selecting the Right Materials
Now that you understand the differences between the types of crushed stone and gravel, how do you choose the best option for your project? Here are some key tips:
Consider drainage needs – The size and angularity of the rock impact drainage. For example, larger angular crushed stone is ideal for French drains, while smooth pea gravel suits dry wells.
Factor in aesthetics – For visible surfaces such as driveways, consider marble chips and other attractive gravels. On the other hand, crushed stone works well for subsurface utility bedding.
Determine structural needs – Foundations, retaining walls, and similar projects depend on angular crushed stone that locks together rather than rounded gravel.
Assess compaction requirements – Angular crushed stone, such as #57 stone, compacts much better than gravel, making it ideal for base layers and bedding that needs compaction.
Check availability locally – Due to transportation costs, selecting locally sourced aggregates is the most economical solution.
Getting Expert Guidance on Crushed Stone and Gravel in Florida
When selecting crushed stone and gravel for your projects, keep in mind important considerations such as drainage, durability, aesthetics, and availability. For most construction applications, a versatile aggregate such as #57 crushed stone is an excellent choice due to its particle size, strength, and drainage properties.
When you're ready to order high-quality crushed stone, gravel, or other aggregates in Punta Gordo, FL, turn to the experts at Barclay Earth Depot. Our experienced team can recommend the perfect materials for your unique needs. We offer a wide range of products for contractors, landscapers, and do-it-yourselfers. Contact us today 941.841.1681 or online to discuss your project and #57 stone requirements.