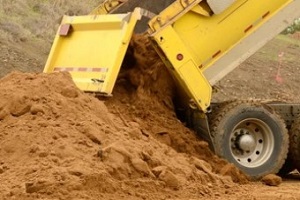 Fill dirt plays an important role in many construction and landscaping projects with a variety of uses including leveling an area, providing a base for landscaping, and erosion control. Depending on the quality of the fill dirt, however, its use cases could be limited. To be used for certain use cases, fill dirt needs to be finely screened.
It is important to understand how the fill dirt screening process is completed, as properly screening the dirt ensures that all of the necessary contaminants and debris are properly removed. If fill dirt is not screened properly, it can lead to disastrous results that can be extremely costly for construction and landscaping businesses.
What is Screened Fill Dirt?
Screened fill dirt is a type of soil used for various landscaping and construction applications and is created by running larger pieces of fill dirt through a screen that removes any rocks, roots or debris larger than 3/8 of an inch in diameter.
The debris and contaminants that are targeted in the screening process help to ensure that the soil itself is prepared for the unique use cases that specifically use only screened fill dirt.
The unique features of screened fill dirt compared to unscreened include:
Consistent texture
Fewer contaminants
Less debris
Easy to manipulate
Enables water flow and nutrient delivery
Nutrient-rich
How To Screen Fill Dirt
Fill dirt screening is an important task for any construction project that requires the use of fill dirt. It involves sifting through the soil to remove any large pieces of debris and separating them into different categories based on size and other characteristics.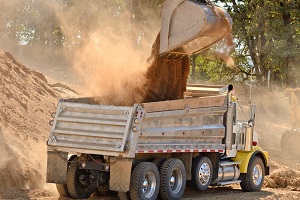 This helps ensure that the soil used for construction is of the proper quality and is free from any contaminants that could potentially cause problems down the road.
The process begins with a preliminary inspection of the soil, where any large pieces are screened out manually before going through a machine-oriented process.
After this initial step, the screened fill dirt passes through a trommel which further separates the dirt into smaller particles, typically in either screened coarse or screened fine categories. The screened coarse contains particles between 0.25 inches and 2 inches in size, while the screened fine contains anything under 0.25 inches.
Next, any remaining objects such as roots, rocks or other debris are removed during a final check before being stored for later use. Depending on its intended purpose, screened fill dirt may require further testing to ensure its safety and suitability as a material for construction projects. This usually includes tests such as pH levels and the presence of harmful chemicals such as heavy metals or high concentrations of salts.
Screening fill dirt is essential in ensuring that projects using this type of soil are done correctly, safely and efficiently without compromising quality. It takes time and effort to screen fill dirt thoroughly, but this is an essential process that ensures that landscaping and construction projects can be completed competently.
Uses For Screened Fill Dirt
It is important to note that screened and unscreened fill dirt both have their own unique uses. Screened fill dirt has many uses that include:
Soil enhancement
Gardening
Lawn preparation
Flower pots and planters
Walkway base
Growing plants
The importance of screened fill dirt extends beyond just providing a strong foundation for construction projects. It also helps prevent drainage problems from occurring due to large rocks or roots blocking water flow within the soil composition. In addition, screened fill dirt does not contain any weed seeds that can sprout up later and require additional maintenance down the line.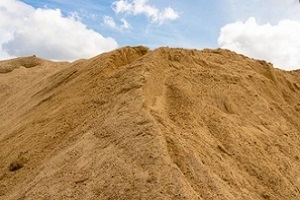 Fine-screened fill dirt is particularly important for projects that require high-quality earthwork to keep water away from structures or to prevent erosion. For example, it can be used in drainage applications where small particles would get swept away during heavy rains otherwise.
It can also be used when constructing roads, driveways, parking lots, retaining walls and foundations where an even distribution of soil particles is important for stability and strength. The screened fill material will provide better compaction resistance than unscreened materials which could lead to premature failure due to instability or excessive settling over time.
High-Quality Fill Dirt Requires an Expert Approach
The highest quality fill dirt is screened using a fine-toothed comb to remove any and all unnecessary particles. So, the finer, the better!
Using fine-screened fill dirt is an important step towards achieving quality results when constructing roads/highways, laying foundation/retaining walls, creating landscape areas, and more.
Quality-screened materials help to bolster strong structures that last longer and require minimal maintenance over their life cycle. This reduces both the cost of labor and the cost of materials required in future repairs and maintenance.
For more information on how to access professional-grade screened fill dirt, contact our team of experts at Barclay Earth Depot today at 941-621-8484.