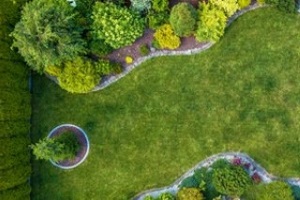 As we enter 2023, many people are already thinking about sprucing up their outdoor spaces and creating a fresh, beautiful landscape. Whether you have an expansive garden or just a small patio, there are plenty of landscaping ideas that can help inspire you to transform your outdoor area into something special.
From lush green lawns to vibrant flower beds, here are some of the top landscaping trends for 2023 that will make your garden look stunning all year round.
Top Landscaping Trends for 2023
Landscaping has become an increasingly popular way to improve your property and create a truly unique outdoor experience. By taking in some inspiration and giving your space a bit of extra care, you can ensure that your space is something special.
Gardens
Whether you are looking to create a large garden or simply fill up those awkward corners of your yard with colorful blooms, there are plenty of creative gardening options available. Consider planting native species to ensure they thrive in your area, or opt for container gardens if you prefer more portability or flexibility.
Immersive gardens are a trend in landscaping that is gaining popularity in 2023. These gardens focus on creating a sensory experience for their visitors, rather than just a visually striking look. Immersive gardens typically feature lush greenery, vibrant floral displays and a variety of other elements designed to engage all of the senses.
Some popular features found in an immersive garden include:
Water features such as trickling streams or ponds with colorful fish and aquatic plants
Fragrant shrubs and flowers that provide sweet aromas
Unique topiary designs made from trimmed shrubs and trees
Rustic wooden benches providing cozy seating areas
Sculptures or statues that bring the garden to life
More subtle elements can be used such as gravel pathways that crunch beneath your feet as you explore, or strategically placed rocks and stones to create visual pathways through the foliage.
Decks & Patios
If you want to add a multi-functional element to your outdoor space, look no further than decks and patios. With so many sizes and shapes available, it's easy to find one that fits perfectly with your layout.
Decks and patios offer plenty of opportunities for entertainment, relaxation and outdoor dining all year round. As a bonus, the installation process is relatively quick and straightforward compared to other hardscaping projects.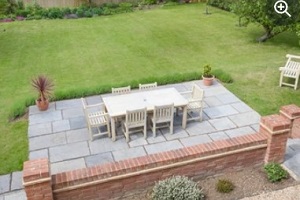 Raised patios are becoming increasingly popular among homeowners looking for an elegant yet modern look in their outdoor space. Raised patios offer many advantages such as allowing rainwater to flow away from your home's foundation as well as providing privacy from neighbors or passersby below them.
These patio systems often feature terraced layers that can be used as additional seating areas or planters which makes them even more versatile when decorating your outdoor space.
Water Features
If you want something truly eye-catching for 2023, consider installing water features such as fountains or ponds on your property. Not only do these structures look stunning when done properly, but they also provide calming sounds that can help reduce stress levels after a long day at work or school. Additionally, these features come in various shapes and prices so they can fit into any budget size or property type.
Fire Pits & Fireplaces
Whether it's roasting marshmallows around a summer campfire or gathering around a warm fireplace during chilly autumn nights, the addition of a fire pit or fireplace gives people yet another reason to spend time outdoors year round.
Innovative designs including floating fire pits, wall-mounted fire bowls or built-in fire tables can add interest to your patio or deck space while providing practical warmth and light during the cooler months.
Stone is still the preferred material for many structures; however, there is now much more design versatility available when choosing stone types. Flagstone, river rock, slate, travertine – all of these options have unique patterns that will add movement to your outdoor space while providing a durable base for the fireplace structure.
Also, consider using more traditional brick materials that can be customized in various colors and sizes to create a classic look that never goes out of style.
Low-Carbon Landscaping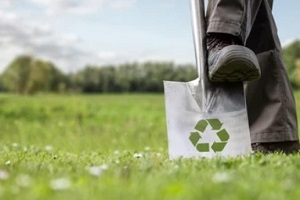 Low-carbon landscaping is becoming increasingly popular in 2023 as more people recognize the many advantages it can offer. Not only does it create a more eco-friendly, sustainable environment, but it also reduces the use of energy, saves money and helps to provide a healthy home for all the critters in your area.
Low-carbon landscaping typically focuses on reducing or eliminating carbon emissions associated with landscape activities. This can be achieved by using native plants, setting up green spaces and reducing water consumption. Additionally, low-carbon landscaping incorporates natural building materials such as cob, stone and clay instead of synthetic materials which require energy to manufacture.
The trend toward low-carbon landscaping in 2023 has been gathering momentum due to its multiple benefits including cost savings, environmental sustainability and biodiversity protection. With proper planning, individuals and companies alike have the potential to not only improve their carbon footprint but also enhance their surrounding environment both aesthetically and ecologically.
Bringing Your Vision To Life with Barclay Earth Depot
Landscaping can be a great way to add value and beauty to your home or business. Whether you want to create an outdoor oasis for relaxation, entertain guests in style or attract more customers with curb appeal, the right landscape design will help make it happen.
With these top landscape ideas for 2023 at your fingertips, you're sure to find something that fits both your vision and budget. Contact our team of experts today at 941-621-8484 to learn more.