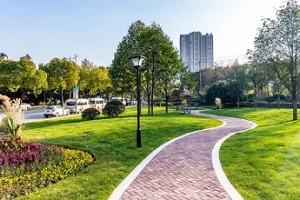 Landscaping is a great way to add beauty and value to your home. With the new year upon us, now is the perfect time to start planning out how you want your outdoor space to look in 2023.
To get you started, here are five creative landscaping ideas that will help make your yard stand out this year. From colorful flower beds and rock gardens to small ponds and terraced patios, these ideas will bring life and beauty into any outdoor space!
5 Landscaping Ideas for 2023
Landscaping is a great way to transform your outdoor space into something beautiful and inviting. As we move into 2023, there are some exciting new landscaping ideas that can really make an impact on your backyard or garden.
1. Vertical Gardening
Vertical gardening is the perfect solution for small spaces. It allows you to maximize the limited space you have with the use of wall-mounted planters and trellises that can be used to grow vines, flowers and other plants.
This type of landscaping is also great if you want to create a unique focal point in your backyard. Vertical gardening is an interesting option that makes maximum usage of your available space while adding a nearly infinite amount of customization options to match your aesthetic.
2. Water Features
Installing water features such as fountains or ponds can be very aesthetically pleasing and tranquil. You can either build these yourself or hire a professional to do it for you-–whatever works best for your budget and skillset! These features also provide habitats for local wildlife so you can enjoy seeing birds and other critters flocking to your backyard every day.
3. Landscaped Pathways
Pathways are a great way to add interest and movement in the landscape by creating paths between different areas within the yard. They can be made from stepping stones, flagstones, gravel, or even more creative materials such as wood chips or recycled glass pieces. Not only do pathways look great, but they are also functional as they make it much easier to move around in the garden without stepping on plants or grassy areas.
4. Fire Pits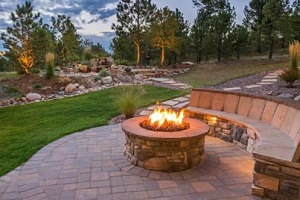 Fire pits are a fun addition to any outdoor area and allow people to gather around during those cool summer nights while still enjoying the warmth of an open flame! You can install traditional fire pits made out of stone, brick or metal or mix things up with more eclectic options by using old barrels as fire pits.
Thanks to the durability offered by fire pits, they are an ideal addition for 2023 landscaping plans as well. Depending on their construction material, these structures are capable of lasting throughout all four seasons without major maintenance problems arising from year-round exposure to the elements.
This ensures that your money is spent on features that remain in good condition throughout the years rather than having to invest new funds into seasonal replacements due to wear-and-tear damage caused by weather conditions.
5. Xeriscape Landscaping
Xeriscape landscaping is becoming increasingly popular due its drought-tolerant nature which helps conserve water without sacrificing beauty. This is perfect for those hotter climates where water conservation is important.
This landscaping approach involves using native plants that require less maintenance such as succulents and cacti while strategically planning areas such as rock gardens or hollows that tend not to need much water.
How To Complete Your Landscaping Project With Success
While there are many versions of success when it comes to landscaping, there are some important considerations to keep in mind when planning out your unique project:
Incorporate Low-Maintenance Materials
Landscaping projects should be designed with low-maintenance materials to last longer and require less upkeep. Materials such as composite decking, artificial turf and decorative stones are popular options that will stay looking great without much effort.
Create a Focal Point
A focal point is essential in any landscape design as it helps create visual interest and breaks up the space into sections. This could be a water feature, a fire pit or even something as simple as an eye-catching garden sculpture.
Utilize Natural Landscape Features
Landscapes should strive to bring out the natural beauty of the surroundings. Incorporating existing trees and shrubs into the design can help create an inviting, natural atmosphere for any outdoor space.
Add Lighting Elements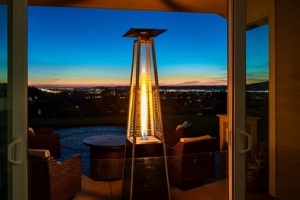 Landscape lighting elements can be used to highlight focal points within the design or simply provide illumination for outdoor activities after dark. Incorporating different types of lighting fixtures such as spotlights, path lights and string lights will add more dimension and depth to any landscape design while creating a pleasant atmosphere at night time too!
Creating Beautiful Landscapes with Barclay Earth Depot
By taking these tips into consideration when planning a landscaping project for 2023, designers will be able to create beautiful outdoor spaces with modern features that look great and stand up to the test of time.
It's also important to remember that experienced professionals have access to the tools and materials required for successful projects. Enlisting their help at any stage of planning or execution is a great way to ensure the successful completion of your landscaping project this year.
At Barclay Earth Depot, we specialize in helping you turn your landscaping dreams into reality. No matter what your goals are, or what materials you may need, our team is here to help make the process effortless. To learn more about how we can help you get started on your next project, reach out to our team of experts today at 941-621-8484.