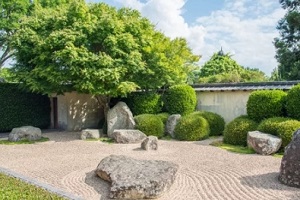 Landscape edging is an integral part of defining spaces in outdoor areas. Edging helps delineate where your lawn ends, and garden beds, pathways, or other features begin. By using landscaping sand for edging it'll prevent encroachment of grass and weeds where they are not wanted.
Edging also facilitates easier lawn maintenance by creating a mowing strip between your lawn and other features. When it comes to materials for edging, landscaping sand is a popular choice as it provides essential benefits compared to other common edging materials, such as bricks, metals, or plastic. Here are some of those benefits.
Benefits of Using Sand for Edging
Sand offers several advantages as a landscape edging material:
It is inexpensive and readily available. You can purchase landscaping sand at any home improvement store for very reasonable prices compared to other edging materials. This makes it accessible and budget-friendly.
Sand is easy to shape and install as needed. Its pliability allows you to curve edges smoothly and create custom shapes, enabling you to achieve your desired edging style.
It conforms nicely to curves and rounds corners well. The malleable nature of sand lets you create flowing, natural shapes rather than harsh corners or lines.
Sand allows for drainage, unlike solid materials. Thanks to tiny air pockets between sand particles, water can percolate through rather than pooling against the edge. This drainage capacity is a major advantage over wood, metal, or plastic edging.
Weeds are easy to get rid of from sand edges. Should any weeds pop up, they can be quickly dug out of the sand. This accessibility makes maintenance simple.
Sand edges can be easily replenished over time. As the sand gets displaced along the edge, more can be added and raked smooth again. Other materials don't offer this ability to refresh the edge.
Proper Installation of a Sand Edging
Installing sand edging properly is important for achieving clean lines and preventing erosion problems. Here are some tips:
Outline the area to be edged using string as a guide. This helps delineate exactly where you want the border to be.
Dig a trench approximately 6 to 8 inches deep along the outlined border. This gives the sand edging stability and definition.
Place weed barrier fabric in the trench before adding sand to block weed growth and contain the sand.
Fill the trench with sand and pack it down tightly with a tamper. Compaction helps the sand hold its shape.
Maintain straight lines and uniform height using a level and flat shovel. Precision creates a professional finish.
Use a rake to create smooth curves and lines as desired. The rake enables you to shape the pliable sand.
Maintaining a Sand Edge
As with any landscape element, sand edging requires occasional maintenance. Here are some upkeep tips:
Rake periodically to preserve the edge shape and lines. This prevents erosion or indentations from forming.
Weed the edge frequently to stop unwanted growth. Pull weeds the moment they poke their head above ground to maintain a crisp edge.
Add more sand to replace any that gets displaced over time. Topping up low spots preserves the edging height.
Fill any dips or depressions that form with fresh sand. This maintains an even surface height all around.
Avoid spraying or directing lawn irrigation water at the sand edge. This can cause erosion problems.
Landscaping Sand Options
When selecting sand for edging, you have several good options:
Play sand is a fine, washed sand that compacts well for edging. Its tiny granule size creates a smooth finish. Look for sand labeled as "play sand."
Paver sand contains a blend of coarser sand granules that holds its shape nicely. The mixture of grain sizes compacts firmly.
Washed concrete sand is coarser than play sand. The angular sand grains interlock when compacted.
Always choose sand specific for landscaping rather than generic construction sand. Play sand, paver sand, and concrete sand are ideal choices. Washed sands will resist weed seeds better than unwashed options.
Tips for a Professional-Looking Sand Edge
Attention to detail goes a long way when installing and maintaining a sand edge. Keep these tips in mind:
Use a level frequently to check edging height and straightness. This achieves clean lines.
Pack the sand tightly but not overly so. Compaction prevents erosion but allows permeability.
Rake gently when reshaping edges to avoid damaging the weed barrier underneath. Work carefully to maintain an even surface.
Curve edges gradually using a hose or garden hose as a guide. Avoid sharp corners for a natural look.
Maintain uniform width and height all around. Consistency creates a refined, intentional appearance.
Get Top-Quality Landscaping Sand for Your Edging Project from Barclay Earth Depot
When clearly defining your garden beds, pathways, and other landscape features, sand edging provides an accessible, drainage-friendly, and visually appealing solution. With proper installation and occasional maintenance to preserve its pristine lines, sand edging can help you achieve a polished look and prevent unwanted encroachments into your lawn or hardscapes.
For expert guidance and premium-grade landscaping sand, contact Barclay Earth Depot. Our team's extensive experience can help you execute and maintain beautiful, effective sand edging that makes your outdoor space look its best. Contact us today at 941.841.1681 or online to start enhancing your landscape with sand edging.