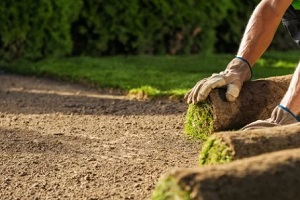 When landscaping, choosing the right materials can differentiate between a great result and a catastrophe. A key ingredient that is often overlooked is fill dirt for landscaping. Found below the topsoil layer, fill dirt, comprising subsoil, sand, silt, and clay, is devoid of organic matter.
This attribute prevents it from decomposing or shifting over time, providing a stable base for various landscaping projects.
Preparing the Site
In landscaping, the preparation of the site is crucial to the success of your project. Here, fill dirt plays a significant role. You may need to fill in low spots or depressions in your yard or raise the overall level of the landscape. Fill dirt is handy for such applications due to its stable, compact nature.
Suppose you plan to construct a patio or a shed or want to level an area for a playground or a fire pit. You would first remove the topsoil layer, which contains organic matter and is prone to shifting or settling. You would then bring in the fill dirt, spreading it to create a level, solid surface.
After compacting it properly, you will have a sturdy base ready for further construction or landscaping. It's a straightforward process that can drastically improve the results of your project and reduce future maintenance needs.
Supporting Structures and Features
Structures and features, such as retaining walls, fences, and pergolas, are common in many landscapes. They add aesthetic appeal and serve various practical purposes. However, these features often need additional support to maintain stability, particularly in areas with loose or unstable soil.
Fill dirt provides an excellent solution. You can use it to back-fill around these structures, providing the needed support and stability. When building a retaining wall, for example, fill dirt is used behind the wall to reinforce it and help it withstand the pressure of the earth behind it. The soil is packed tightly, providing a robust backing that allows the wall to stand firm against the forces of nature.
Similarly, you can use fill dirt in the hole around the post when installing fence posts. The compact nature of fill dirt ensures the pole remains upright and secure, enhancing the longevity and effectiveness of the fence.
Improving Drainage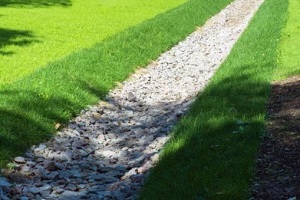 One of the essential factors in maintaining a healthy landscape is proper drainage. Poor drainage can lead to waterlogged soil, which can be detrimental to many types of plants and can cause problems for any structures in the area.
Fill dirt can be a crucial tool in addressing drainage issues. Unlike topsoil or garden soil, it doesn't retain water, so you can use fill dirt to build up areas of your landscape, directing water away from certain areas.
You could create a gentle slope away from a building to keep rainwater from pooling near the foundation. To do this, you would add fill dirt around the foundation, then grade it so it slopes away from the structure. The slope doesn't need to be drastic. A drop of about two inches for every ten feet is generally sufficient.
Another option is to use fill dirt to construct a French drain. You would dig a trench in the direction you want the water to flow, then fill the bottom part of the trench with gravel.
Lay down a perforated pipe, then surround it with more gravel. Finally, top it off with fill dirt, creating a slight mound to encourage water to flow into the trench.
Landscaping and Elevation Design
The physical design of a landscape involves more than just choosing plants. It also includes shaping the land itself. Whether you're creating a terraced garden, a raised bed, or just an attractive, rolling lawn, fill dirt can be instrumental in achieving your vision.
You might use fill dirt to create small hills or mounds in your landscape. These can be visually appealing and useful for creating separate areas or focal points in your yard. To do this, you would pile fill dirt in the desired location and shape it into the form you want.
After you're satisfied with the shape, cover it with topsoil, then add grass or plants to integrate it into the rest of your landscape.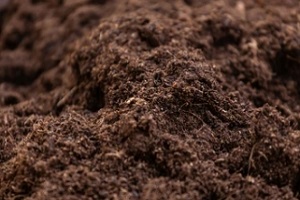 Another widespread use of fill dirt for landscaping is to build raised garden beds. You would construct the outer frame of the bed, then fill it with a mixture of fill dirt and topsoil.
The fill dirt helps to ensure the bed maintains its shape and provides good drainage, while the topsoil provides the nutrients needed for plants to thrive.
Shape Your Dream Landscape with Quality Fill Dirt from Barclay Earth Depot
Landscaping success relies as much on the foundation as on aesthetics. Fill dirt is a crucial element in this foundation, offering versatility and stability across various landscaping applications.
Barclay Earth Depot is ready to assist you in maximizing the potential of fill dirt for landscaping projects. Let's work together to bring your landscaping visions to life. Contact us today at 941.841.1681 or online for all your fill dirt needs.