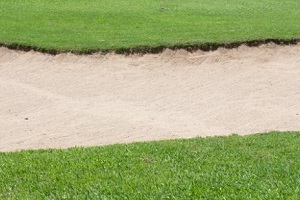 Selecting the right bunker sand in Florida's wet, humid conditions is a monumental challenge. Torrential tropical rains, year-round play, and blazing sunshine put incredible demands on sand performance. You need a material that drains rapidly after storms yet provides a consistent, quality playing surface.
It might seem impossible initially, but not if you choose SW Florida pristine sand.
Particle Size Distribution
The proportions of sand, silt, and clay particles substantially impact drainage and playability. According to USGA guidelines, around 78% of the particles should be medium-sized, between 0.1-1.0 mm in diameter.
This provides stability while still allowing water to percolate freely. Less than 15% should be very coarse sand between 1-2 mm. These larger grains assist drainage but can become too soft if overabundant.
To prevent compaction issues, silt and clay particles must be kept under a combined total of 3%. Additionally, gravel-sized particles bigger than 2 mm should be less than 2% to avoid uncomfortable lie angles.
SW Florida pristine sand has an ideal gradation, as it's made up of mainly medium grains with minimal silt and clay, which allows rapid drainage after heavy rains.
Sand Shape and Angularity
The shape of sand particles significantly affects how bunkers play. Rounded, spherical grains easily wash away and compact, leading to buried lies and firmness issues. Instead, you want sand particles with some angularity and surface roughness.
Such irregular shapes resist washing down steep bunker faces and interlock together nicely, producing firm playing conditions. According to research, glass-derived bunker sand with very angular, jagged particles provided firmer playing surfaces than rounded natural sands.
Thus, look for off-white, sub-angular to angular grains such as those in SW Florida pristine sand. The combination of roughness and angularity will deliver great playability and minimal washing.
Permeability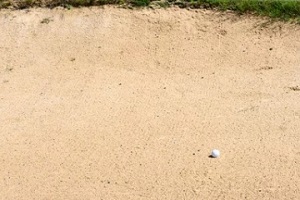 Permeability, or the infiltration rate, is possibly the most important metric for Florida bunkers. Heavy tropical rains can flood any bunker if drainage is inadequate. While a minimum of 20 inches/hour is recommended, don't settle for the bare minimum. Ideally, look for sand with an infiltration rate of over 30 inches/hour.
Also, remember that contamination from organic matter, silt, and clay decreases permeability over time. For example, infiltration rates for bunker sand used in Arizona dropped from 24 to only 7.5 inches/hour after three years. So, make sure to check aged samples to get a reality check on drainage declines.
SW Florida pristine sand has excellent permeability. Still, any bunker sand in Florida's climate will need vigilant maintenance to prevent decreasing drainage capacity.
Angle of Repose
The angle of repose indicates the maximum steepness bunker faces can be built to avoid erosion. Sand is piled into a cone, and then the angle of the slope is calculated. Sands with higher angularity and broader distribution have a greater angle of repose.
Florida's heavy rains mandate bunker faces that won't readily wash out. Testing sand samples can identify materials such as SW Florida pristine sand that will remain stable on angled slopes despite the climate.
Crusting Potential
Some sands with excessive silt, clay, or calcium carbonate can form hardened crusts on the surface when drying out. This crusting requires frequent raking to loosen and provide good play. Highly angular sands are less prone to crusting issues.
Florida's wet weather can cause crusting to occur relatively frequently. SW Florida pristine sand's high drainage capacity and sub-angular grains make it less prone to crusting, leaving the surface smooth and consistent.
Acidity
A high acid reaction that can be determined through testing means calcium carbonate is present in the sand. While moderate calcium content is acceptable, it may cause cementing and chemical breakdown over time.
Florida's heavy rains and sunlight accelerate the deterioration of calcareous sands through dissolution. With SW Florida pristine sand, you won't have to worry about this issue because it is relatively chemically stable and silica-based, helping it to resist weathering.
Appearance Matters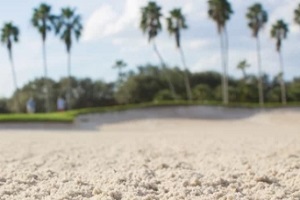 While not impacting performance, most golfers want visually appealing white sand. However, bright white sands lose luster rapidly, often requiring replacement after a few years. Weigh life cycle cost against appearance.
SW Florida pristine sand provides the best of both worlds. It's an aesthetically pleasing off-white color that maintains its lighter hue longer than brighter sands before needing to be changed out.
Get Top Quality SW Florida Pristine Sand from Barclay Earth Depot
Choosing the right bunker sand for your Florida golf course isn't the easiest task considering the many factors that need to be weighed. However, it can be a lot simpler with the help of an experienced partner who is not only a sand expert but is also fully aware of the unique challenges of operating a golf course in Florida.
And that's what you get with Barclay Earth Depot. Our team of experts has spent years perfecting our sand offerings to maximize performance for a wide range of applications, including providing an outstanding golfing experience. Contact us today at 941.841.1681 or online to learn more about how SW Florida pristine sand can bring your bunkers to the next level.