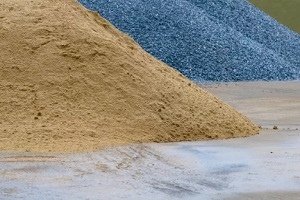 Sand might not be the first thing that comes to mind when dreaming up your perfect backyard oasis. Still, this humble material can utterly transform your outdoor space. With some creativity, landscaping sand can be used in various ways to create stunning and unique landscaping features that you and your guests will enjoy all year.
This article will explore some of the most creative ways to landscape with sand to enhance your yard.
Build Your Own Backyard Beach
Who needs to fight traffic and pay for parking when you can create your own private beach right in your backyard? Bring the seaside straight to your home with a DIY backyard beach.
Start by designating an area of your yard for your beach and removing any grass or weeds. Shape the area into a gentle slope or flat plane. Next, build up a 6-8 inch gravel foundation and compact it down with a tamper. This will provide drainage.
Now comes the fun part – dump in loads of sand to cover the entire beach area at least 6 inches deep. For an ultra-realistic look and feel, use soft beige-colored sand similar to what you'd find at the ocean.
Of course, you'll want to accessorize. Dot the sand with beach umbrellas, chairs, towels, and toys. Plant some palm trees in strategic spots for shade. The finishing touch? Install an in-ground pool or pond and rim it with sand for the ultimate beach vibe.
Shape a Dry Sand Riverbed
Are you looking for a way to add organic style and visual interest to your landscaping? Consider shaping a dry sand riverbed. This unique feature looks especially striking when juxtaposed with a green lawn or vibrant plantings.
Decide on the path you want your riverbed to follow. Dig a trench about 8 inches deep and at least 12 inches across. Make sure to cut curves and bends for a natural look. The trench doesn't need to be perfectly straight.
Line the trench with landscape fabric to prevent weeds. Then, fill it about halfway with landscaping sand. Top off with small pebbles. For extra texture, scatter larger rocks and stones along the "riverbanks" where you want to simulate erosion.
Plant drought-tolerant succulents, cacti, and grasses along the edges. Their colorful shapes and textures will pop against the neutral sand and stones. To complete the look, install a recirculating pump or fountain at the start of your river.
Build an Epic Sand Playscape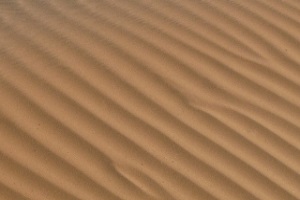 If you're lucky enough to have sandy beaches nearby, you know the joy of digging in the soft sand. Kids absolutely love playing in the sand, and you can bring the magic home by installing a sand playscape in your backyard.
Stake out a large, flat area and remove any vegetation. Install playground equipment such as swings, slides, and climbing structures in the sand. Surround play areas with benches so parents can watch the fun.
Don't just grab any old builders' sand from the hardware store when choosing sand. Invest in a high-quality play sand that's free of silica dust. Play sand is specially engineered to be soft on little hands and feet when kids are digging, building sandcastles, or otherwise engaged in boisterous play.
Let kids' imaginations run wild in a playscape with sand toys such as buckets, shovels, rakes, and molds for architectural creations. The sand can be smoothed out when playtime is over, leaving the area tidy.
Construct Your Own Sand Volleyball Court
If you're a volleyball lover, take your game to the next level by building your own sand court right outside your back door. Start by grading and leveling the ground. Install sturdy poles or anchors for the net.
Surround the court area with landscape edging to contain the sand. Dump in load after load of sand, using a tamper to compact it down after each layer. Level and smooth the surface, maintaining a consistent 2-inch depth across the entire court. Slope very subtly from center to sides for drainage.
Maintain your court by raking regularly and checking for low spots. Add fresh sand as needed to keep the depths exact.
Design a Soothing Zen Sand Garden
In your hectic life, having an oasis of serenity could make all the difference for your mental health. Create a relaxing Zen sand garden right outside your home. Japanese Zen gardens are designed to facilitate calm, mindfulness, and meditation.
Start by choosing a quiet outdoor area removed from the hustle and bustle. Clear vegetation and use a rake to pattern the sand in concentric rings, waves, or other mesmerizing shapes and textures. Add large stones and boulders for focal points and a sense of stillness. Groupings of ornamental grass can add texture and soft noise as breezes blow through.
A small water feature such as a gentle fountain or even a "dry creek bed" lined with pebbles winding through the sand adds to the peaceful ambiance. Landscape lighting casts a moody glow for evening meditation. Minimalist accessories such as statues, lanterns, and benches invite you to sit and clear your mind as you contemplate the careful composition you've created.
Build a Cozy Sand Firepit Area
As the temperatures drop in the evening, extend outdoor hangout time by warming up around a flickering firepit. Install your firepit on top of a bed of sand for safety and stability. Dig out the area, lay down landscape fabric, top with gravel for drainage, and fill 6-12 inches deep with landscaping sand.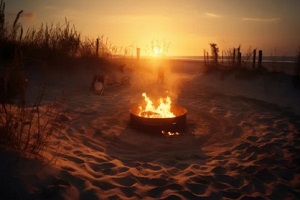 Sand offers a smooth, level surface for seating around the fire. It's soft under bare feet but provides enough stability for chairs. And unlike grass or dirt areas, sand won't get muddy. It's an ideal, neutral material that's both practical and decorative.
Surround your firepit with all-weather wicker chairs or benches with cozy cushions. For ambiance, dot the perimeter with tiki torches and strings of fireproof lights. Get creative by incorporating large stones or boulders to divide seating areas or serve as side tables.
Get Creative with Landscaping Sand from Earth Barclay Depot
Ordinary sand can be an extraordinary enhancement to all different types of landscapes when used creatively. Whether you're building a whimsical playscape for kids, an athletic volleyball court for friendly competition, or a serene space for meditation, sand offers versatility. Work this humble material into your next landscaping project. The only limit is your imagination.
For the best results, consult our sandscape experts at Barclay Earth Depot. We'll help select ideal sand textures and colors to bring your creative vision to life. Don't leave your landscape lackluster when the possibilities are so vast with landscaping sand!
Contact Barclay Earth Depot today at 941.841.1681 or online to unlock sand's potential for stunning, functional spaces tailored to your lifestyle.