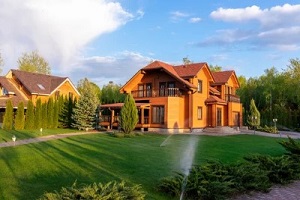 Homeowners are always looking for ways to enhance their outdoor space and make it more attractive and inviting, and Floridians are no exception. With the new year just around the corner, now is a great time to start thinking about Florida landscaping trends for 2023.
Whether you're planning a complete overhaul of your yard or just want to add some special touches, these Florida landscaping trends will help you create an outdoor oasis that's sure to be the envy of your neighbors!
Top Florida Landscaping Trends
Florida is known for its sunny days and gorgeous landscaping giving Florida residents a variety of innovative trends to choose from when designing their own outdoor spaces. Here are the leading 2023 landscaping trends that are sure to add curb appeal and make any Florida home stand out from the crowd:
Low-Maintenance Landscapes
With Florida's hot, humid climate, many Florida homeowners want to enjoy their outdoor spaces without the commitment of maintaining a high-maintenance yard. To reduce the amount of upkeep needed for a Florida landscape, consider incorporating hard-scape materials such as pavers and gravel, as well as low-maintenance native plants that thrive in Florida's climate and irrigation systems that can be programmed to water efficiently.
Vertical Gardening
Whether it's to maximize limited outdoor space or bring some green into an otherwise dull area, vertical gardening is becoming very popular in Florida this year. Residents can use trellises or wall planters on fences and exterior walls to get creative with their gardening design while still making it aesthetically pleasing against Florida's beachy backdrop.
Vertical gardening not only creates an attractive feature in Florida yards, but it also has practical benefits as well. Since Florida often experiences heavy rains that can cause soil runoff, vertical gardening offers a great solution by limiting the impact on the soil while still allowing plants to get adequate water and sun exposure.
Vertical gardens also help with pest management since pests including aphids and caterpillars can be more easily identified and managed when the plants are kept at eye level.
Modern Curb Appeal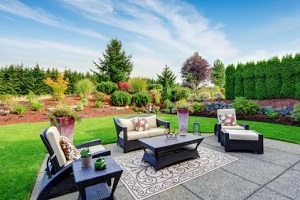 Florida has plenty of modern homes incorporating sleek lines and a minimalist aesthetic, so why not extend that modern feel into the landscape?
Introducing contemporary elements into your landscaping design such as metal sculptures or abstract art pieces can create a beautiful contrast between nature and modernity and make your home stand out from the others in your neighborhood.
Outdoor Kitchens & Fire Features
Florida experiences nice weather throughout the year; take advantage of those great days by creating an outdoor living area. Adding an outdoor kitchen with a grill or smoker allows residents to keep entertaining outside all season long while fire pits or fireplaces provide ambiance to any outdoor gathering.
Native Plants & Pollinator Gardens
Florida is home to many native plants that require little maintenance yet still look stunning in landscapes each season. These are perfect for Florida homeowners who don't have time for frequent yard work but still want an attractive lawn they can take pride in maintaining themselves. Additionally, pollinator gardens are great additions for attracting wildlife; visiting birds and butterflies add another layer of vibrancy to any Florida yard!
Florida Landscaping Considerations
Landscaping projects in Florida require a strong understanding of the climate and geographical features, as well as current trends in the industry. Florida's hot and humid climate makes it difficult to ensure that certain plants and trees are able to thrive. Florida also has different soil types that will work best, depending on which region of the state you live in.
Florida's warm weather means plants need to be able to withstand high temperatures and humidity levels in order to succeed. Florida also tends to have long dry spells during the year, so irrigation strategies must be considered when choosing plant species.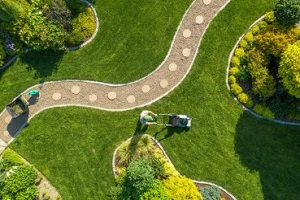 Trees with large canopies provide much-needed shade while also helping reduce cooling costs in the summer months by blocking out direct sunlight. Low-maintenance grasses such as St. Augustine works well in sunny areas and requires less water than traditional lawns, making them ideal for warm climates.
There are many creative ways Florida homeowners can spruce up their landscaping this year without breaking the bank. Planting native species is always a good idea as they tend to have better success in Florida's climate than non-native plants.
Creating Unique and Creative Landscaping Projects in Florida with Barclay Earth Depot
2023 landscaping trends in Florida will continue to focus on sustainability and creating outdoor living spaces that promote a connection with nature. With the right design, Florida homeowners can create beautiful, functional backyards while also doing their part to protect the environment.
From using native plants and low-maintenance materials to implementing water conservation measures, there are many options available for anyone looking to upgrade their Florida landscape in 2023.
To learn more about how you can successfully and affordably complete your next project, contact the team of experts at Barclay Earth Depot today at 941-621-8484.