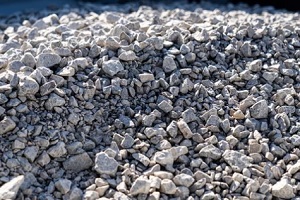 The type and size of stone needed for a project depends on the intended use. However, one commonly used aggregate in many construction and landscaping projects is #57 stone. But what exactly is #57 stone, and how is it used?
This article will explain what you need to know about #57 stone to determine if it's the right material for your next project.
What Is #57 Stone?
#57 stone is a common crushed and screened aggregate used in many residential and commercial building projects. The name "#57" refers to the specific sieve used to obtain the required particle size that the stones are sorted to during manufacturing.
Hard rocks, such as granite and limestone, are mined from quarries and fed through crushers that break them down into smaller pieces. Subsequently, the crushed rocks are screened through sieves with mesh openings that only allow stones of the proper size to pass through. For #57, the stones must be small enough to fit through 3⁄4 inch openings but not less than 1⁄2 inch, resulting in crushed stones sized 1 to 1.5 inches.
The crushing process gives #57 stone its angular, jagged edges. In contrast to smooth river rock, these sharp edges let the stones interlock tightly when compacted, making #57 an ideal base material.
The Many Uses of #57 Crushed Stone
#57 crushed stone is valuable for numerous construction applications because of its versatility:
Asphalt Paving – The tight compaction creates a stable base underneath asphalt so it does not shift or sink. The jagged edges provide a sturdy bed for the asphalt to adhere to, which prevents the surface layer from shifting or sinking.
Concrete Aggregates – When mixed into concrete, #57 crushed stone fills small voids between other aggregates, leading to solid, durable concrete once cured.
Drainage Systems – The porous nature and size of the crushed stone allow water to flow through easily. This makes it useful for French drains, swales, retaining walls, and other drainage management applications.
Gravel Driveways – Properly graded and compacted #57 stone creates an extremely robust driveway or parking lot surface. The angular gravel locks together to create a stable base that can withstand heavy vehicle loads.
Landscaping – #57 crushed stone is also used decoratively or functionally around gardens, trees, and retaining walls, as its neutral gray hues complement most natural landscapes.
What Are the Benefits of #57 Crushed Stone?
In addition to its versatility, #57 crushed stone has other benefits that make it an excellent option:
Cost-Effective – As a widely produced grade of crushed stone, it is easy to source locally. It is reasonably priced at most quarries and landscape retailers.
Reliable Performance – Decades of successful use in drainage, erosion control, and stability applications have earned #57 stone a reputation for consistent, reliable performance.
Year-Round Installation – Unlike poured concrete, #57 stone can be installed and compacted effectively even in cold weather, allowing expanded project scheduling.
Easy to Work With – The 1 to 1.5-inch crushed stone can be shoveled, raked, and graded by hand, yet compacts tightly for a robust base. This combination makes it ideal for do-it-yourselfers and contractors.
Considerations When Working with #57 Crushed Stone
While suitable for many applications, here are some important considerations when working with #57:
Steep Slopes – Due to their weight and shape, these crushed stones may be prone to slipping or washout on inclines or hills. To counteract this, consider incorporating smaller aggregates to stabilize these installations by preventing erosion and movement.
High Compaction Needs – In base course layers, #57 stone should be combined with smaller crushed rocks to improve compaction and maximize such layers' required density and weight-bearing capacity.
Wet/Muddy Conditions – Loose, silty soil or continuously wet conditions can cause #57 stone to sink over time unless the site is properly graded and drained beforehand.
Cold Climates – In regions with freeze-thaw cycles, this can lead to minor settling as voids form between stones. Adding smaller aggregates creates a denser fill that better resists heaving and settling.
Source Top Quality #57 Crushed Stone from Barclay Earth Depot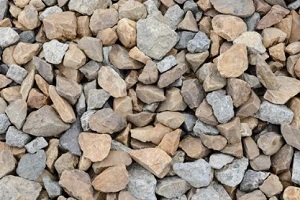 Number 57 crushed stone can be extremely versatile and cost-effective for projects ranging from drainage installations to driveway construction when used properly. With its durability and affordable price point, #57 stone is a staple aggregate for contractors and landscapers.
However, every construction and landscaping project is unique. The ideal type and size of aggregate depend on your specific site conditions and project goals. Barclay Earth Depot has extensive experience supplying the highest quality crushed stone and aggregates for residential, commercial, and municipal projects.
For expert advice and the best crushed stone aggregates available, contact us today at 941.841.1681 or online. Our aggregate experts will help you select and source the ideal materials to complete your project successfully and affordably