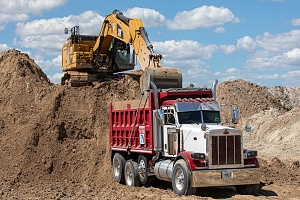 Screened fill dirt is a versatile material for a wide range of applications. It has been screened to remove large particles and debris, making it great for projects such as landscaping and construction work. Here are some of its uses and why it's the best choice:
1. Landscaping Projects
A wide range of landscaping projects can benefit from using screened fill dirt, such as building raised beds, filling in depressions and improving drainage. It has a fine texture that makes it easy to work with.
The lack of debris means plant roots are less likely to suffer damage. Plus, screened fill dirt also provides better drainage, which helps promote healthy root growth.
2. Building Foundations
Another excellent use for screened fill dirt is in building foundations. Since this type of dirt is filtered through fine mesh sieves, it has a low level of rock and clod, making it easy to compact and shape.
It can be used to level uneven areas before laying out and pouring the concrete footers, ensuring a smooth surface upon which to build the structure. Additionally, it acts as a buffer between the ground and footing materials, allowing them to settle with less risk of sinking into the earth beneath.
Using screened fill dirt also helps improve drainage, reducing the likelihood of water pooling around the foundation and damaging it over time.
3. Driveways and Walkways
Driveways and walkways require a stable base to avoid potential issues, such as cracking and sinking. Screened fill is a great solution because it is less likely to shift or separate over time due to the lack of large rocks that allow it to settle into a robust foundation.
In addition, it can be shaped easily to accommodate curves or other design elements without compromising its sturdiness. The material also compacts well, creating a solid surface that can better support the weight of vehicles and ensure longevity.
4. Retaining Walls
Retaining walls must hold up to the weight and pressure of the dirt or other material behind them, which can be significant. Screened fill is often used because it's easier to compact, giving you a more stable and resistant wall. It also helps with water drainage, reducing the risk of erosion. Finally, the wall won't be as prone to settling over time so it will last longer.
5. Ponds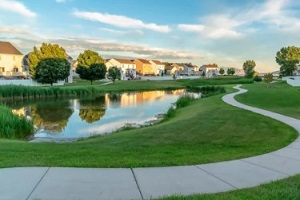 Ponds and water features may be largely decorative, but that doesn't mean they shouldn't be constructed with stability and functionality in mind, which is where screened fill comes in. It's a clean, stable material free of large rocks, roots and other debris, reducing the chance of it shifting over time.
Plus, it's easier to shape and manipulate to create the desired effect. Screened fill also helps with water drainage, preventing the pond from becoming stagnant and overgrown with algae.
6. Drainage Systems
Another frequent application of screened fill dirt is as a backfill for drainage systems, such as French drains, as it can promote optimal water flow and reduce sediment build-up.
The screening process ensures that no gravel, clay clumps, or other large pieces of debris are present in the dirt and that the dirt particles are of a uniform size. Not only does it ensure a consistently smooth surface, but it also prevents clogging of the drain's pipes.
7. Underground Utilities
Underground utilities require a solid foundation to ensure their stability and functionality. Using stable and compacted dirt, such as screened fill, can provide a base that won't shift or settle over time. Furthermore, this material's fine, uniform particles are less likely to interfere with the operation of pipes, wires and other components.
It can also absorb and disperse excess water from surrounding areas to reduce flooding and damage to the utility lines. In addition, screened fill helps to provide a barrier from the intrusion of roots or other foreign matter.
8. Levees
Levees must be robust and stable to withstand the pressure of holding back so much water. Screened fill is often used when building these dams because it is relatively free of debris and large particles, improving the resilience of the levee.
It is also easier to compact than other fill materials, creating a tighter, more reliable seal, thereby lowering the risk of water seeping through. Screened fill also helps minimize erosion, making the levee more durable and long-lasting.
9. Earth Berms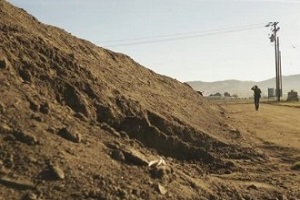 Earth berms are raised earthen mounds that can act as windbreaks, sound barriers or barriers against flooding. However, as with levees, their effectiveness relies on appropriate shaping and construction to withstand the pressures they are subjected to.
For this reason, screened fill dirt is often used because its small particles make shaping and forming the berm easier. Furthermore, its drainage capabilities help prevent water from pooling around the structure's base, reducing the risk of erosion.
Ready to Buy Screened Fill Dirt?
Screened fill dirt is a good option for many projects, from raising garden beds and building driveways to strengthening retaining walls and creating stunning water features. However, not all screened fill dirt is of equal quality. Barclay Earth Depot provides high-quality screened fill dirt free of debris and large particles.
Our team of experts can help you determine the type and quantity of screened fill dirt ideal for your situation. Contact Barclay Earth Depot online or call 941-621-8484 to learn more about our selection of screened fill dirt and get started on your next project.