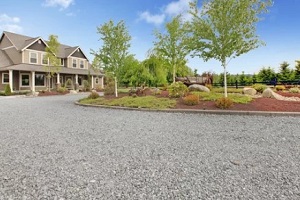 Gravel driveways are an economical alternative to concrete or asphalt driveways, and they come with their own unique charm. Although the process might seem as simple as buying some gravel, dumping it onto your driveway, and spreading it around, there's more to consider.
For instance, did you know gravel size can make a huge difference?
What's the Best Gravel Aggregate Size for Your Driveway?
The best size gravel aggregate for your driveway ranges from ¼" – 1" because it clumps together better when a tire presses on it, so the result is a more stable and less slippery surface. It's also great for drainage, ensuring you won't end up with a pond instead of a driveway.
Understanding Gravel Driveways
A gravel driveway consists of small stones, pebbles, or rock fragments. They're particularly loved in rural areas because they're cost-effective and easy to install. With the right type and size of gravel aggregate, you'll have a sturdy driveway that can withstand the test of time with proper maintenance.
Unlike concrete or asphalt driveways that may require extensive (and expensive) repairs for issues like potholes, a gravel driveway is simpler to manage. All you need to do is add more gravel to even out the surface and fix any problems.
Gravel driveways do come with a few challenges. For instance, the gravel can wash away, weeds might spring up, snow removal can be tricky, cleaning isn't the easiest, and potholes may seem to appear overnight. However, don't worry too much – choosing the right gravel size can alleviate many of these issues.
Why Is Gravel Aggregate Size So Important?
The size of the gravel you lay down matters because it can either alleviate many of the problems mentioned above or exacerbate them.
Drainage: If you live in a rainy area, you risk your driveway masquerading as a water feature if it doesn't have proper drainage. And that's precisely what will occur if the gravel you're using is too small. Larger gravel, on the other hand, is much better at allowing water to seep through into the soil below.
Stability: You're meant to be able to drive on your driveway. But if it's not stable enough, it can become frustrating. Smaller-sized gravel is better at stabilizing your driveway because it's easier to compact, whereas larger-sized gravel will move around more easily, especially when under the heavy load of a vehicle.
Comfort and noise: While comfort and noise might not be the first things you think about, wait until you try walking on large, sharp gravel. It's very uncomfortable – even painful. Also, getting woken up in the middle of the night when your partner gets home from their night shift isn't much fun, either. Smaller gravel isn't as noisy as larger aggregate when you drive over it. It's also more comfortable to walk on. However, it is also easily displaceable, meaning that it will require more maintenance.
Maintenance: Smaller gravel will generally require more maintenance because it's more likely to get displaced by rain or wind, so you'll need to replenish it more frequently. However, your driveway's surface will be more stable. On the other hand, larger gravel is less stable, and doesn't wash away quite as easily, so it will need less maintenance.
Aesthetic appeal: Larger gravel will give your driveway a more rustic and natural appearance, while smaller gravel will appear more refined and elegant. So, in this case, the right size gravel aggregate is whatever fits with the design of your home and landscape.
Exploring the Best Gravel Aggregate for Driveways
Some of the more common types of gravel aggregate used for driveways include 57 Granite, Small Pea Gravel, Crusher Run, and Alabama Path Stone, each with advantages and disadvantages, depending on their use.
57 Granite Gravel
57 granite is a larger type of gravel, falling into the upper end of the ideal size range. The larger spaces between the stones mean tires might spin a little when driving on them. However, 57 granite provides excellent drainage and looks nice, making it a popular choice for driveways.
Small Pea Gravel
On the smaller end, small pea gravel ranges in size from 1/8″ to 1/4″. It's an attractive option for your driveway, offering a variety of colors from light brown and tan to translucent white. Before using small pea gravel, though, it's important to install a solid foundation, such as Crusher Run, to provide support, given its round shape and relative instability.
Crusher Run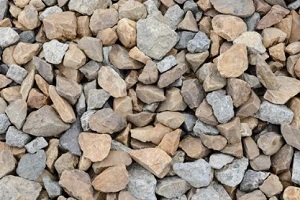 Crusher run is a combination of granite fines and 57 granite. It's ideal for drainage and adjusts well to temperature changes, making it excellent for driveways in fluctuating weather conditions. However, the granite fines can wash away over time, so it's necessary to secure the sides of your driveway with some form of edging to maintain its integrity.
Alabama Path Stone
Alabama path stone is a mixture of equal parts crushed Alabama rose stone, sized between 1/8" to 1/4″, and fine. This blend results in a driveway that packs down well and offers a striking dark red look. As with Crusher Run, ensure you have something on the sides of the driveway to keep the finer material from washing away over time.
Get Top Quality Gravel Aggregate to Transform Your Driveway from Barclay Earth Depot
Choosing the suitable gravel for your driveway might seem tricky, but taking your time matters. Your choice adds personality to your driveway and ensures it works well for you. Remembering that the best gravel for one person might not be the best for another is vital. It all depends on what you need.
But don't worry; you're not alone. Barclay Earth Depot can help. Our team of aggregate experts can help you choose the most suitable gravel aggregate for your project. Plus, we can supply any type and size of top-quality gravel. Contact us today at 941.841.1681 or online, and let's get started on upgrading your driveway.